Tridos
Triple chamber system - Continuous flow dry polymer dissolver unit
Tridos is an automatic polymer powder dissolver unit for the preparation of a highly effective polymer solution.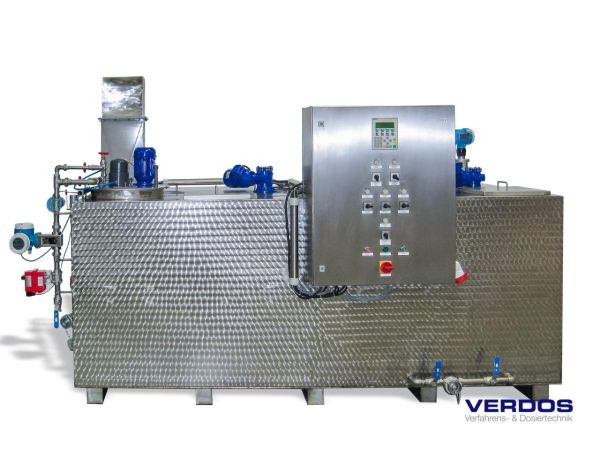 Read more...
The flocculant is injected into the batch chamber through the dry product dosing device.
The wetting device provides for a homogeneous wetting of the product.
The wetted product is then fed into the draught tubes of the Verdos agitator system. Upon reaching an optimum mixing ratio, the product overflows into the maturation chamber, where it is gently homogenised and provided as the matured product.
The resulting polymer solution can now be injected into the process as a ready-to-use solution through the dosing pumps without intermediate tanks.
The system can be used either with dry or liquid media.
The system is controlled via a Siemens Simatic PLC. The touch panel can be used to enter all parameters required for optimum system operation and to monitor all process data, ensuring the preparation of a consistent polymer solution.
Tridos in standard design:
| Type | Tridos |
| --- | --- |
| Dissolving capacity | 1000 – 15000l/h |
| Polymer capacity | 5-75 kg/h |
| Solution concentration | 0,1 – 0,5% |
Data and facts:
Triple-chamber tank (batch, maturation and dosing chamber) made of high-quality stainless steel
Theoretical maturation time of 60 minutes
Agitator inside maturation chamber
Heated screw conveyor
Wetting device developed by VERDOS
Draught tube agitator system developed by VERDOS
100l stock hopper
Fill level control in dosing chamber
Overfill preventionHigh-quality stainless steel piping
Custom sizes available on request.
Further options:
Big-Bag lifting frame with or without crane
Granulate suction unit
PID controlled water flow path with inductive flow meter and control valve
Storage container for dry polymer, bag discharge or with Big Bag frame
Pressure booster station for dilution water
Dosing system for polymer solution
Secondary dilution units for further reduction of the solution concentration
Double filter unit with differential pressure gauge for polymer solution filtration
Liquid polymer dosing pump

Coriolis or inductive flow meter for PID controlled liquid polymer supply

Agitator for dosing chamber
Air conditioning unit for switch and control cabinet
---